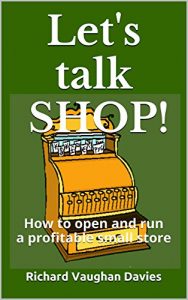 In 1992 Richard wrote a book aimed at helping people who were starting or running small businesses, mostly in the clothing trade. It was serialised in Menswear magazine and advertised in the trade press.
One clothing manufacturer ordered 100 copies to distribute to all his retail customers!
Although it is really only a 54-page home-published textbook, it sold several hundred copies and attracted a lot of favourable comment. It seemed to fulfil its purpose – namely to offer practical advice to small entrepreneurs.
 What Readers Say
"Stayed up till 3.00 a.m. to finish it – marvellous stuff!"
"One idea alone has made me thousands of pounds!"
"I need the Vaughan Davies school of advertising and to learn from the master"
"The book is simply terrific."
Still Relevant Today
Reading it today Richard is conscious that some of it is out of date – the word 'computer 'is hardly used, for instance. Also the importance of 'labels' and designer names has overtaken some of the advice on buying stock, and these days small businesses are scarcer than they were.
Times have indeed moved on, but Richard has been encouraged by recent comments to offer it to anyone interested in the elementary principles involved in the noble art of doing one's own thing against the big boys.
 Synopsis
Chapter 1
Opening a shop of your own. Facing the facts. Commitment. Luck. Finding Premises. Shop fitting.
Chapter 2
Accounts, book-keeping and cashflow. Statutory books. Management accounts. Starting-up costs. Capital. Overheads.
Chapter 3
Buying your stock. Identifying your market. Specialisation Finding suppliers. How to survive a trade show. Placing orders and controlling your stock. Placing the order. Size scales. Stock turn. Shrewd buying.
Chapter 4
How should you price your goods? Mark-ups. Margins. Price points. Putting on a Sale.
Chapter 5
Staff and Customers. Staff recruitment. Commission and incentive schemes. Selling skills. "Just looking, thank you!". The Customer. Shoplifting,
Chapter 6
Advertising and Display. The magic of Press advertising. Media. Below the line. Window dressing.
Appendices
I Franchising
II Cash flow & Stock movement charts
III Profit and how it all works
IV Layout of an advert (example)
How to Order Your Copy