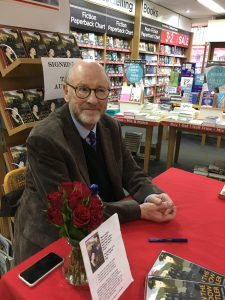 In 2018 Richard Vaughan Davies published his debut novel, In the Shadow of Hitler – the novel he always wanted to write since having an inspirational Austrian teacher at Malvern College. 
He is about to publish his second, In the Shadow of Shakespeare, exploring the real identity of the playwright of works attributed to William Shakespeare, drawing on "The Question of Reasonable Doubt" provides an authoritative alternative to the widely accepted view about Shakespeare's authorship. (Watch a video by Mark Rylance and Derek Jacobi on that topic at the foot of this page.)
He also writes short stories and poetry, runs playreading and poetry groups, and is a member of Chippy Writers.
He has a combined honours degree in English and Italian from Liverpool University, taken mid-way through his pre-retirement career in retail.
During his retail career, he contributed articles to Menswear magazine for over thirty years, where he acted as Deputy Editor for a short time. He also had a weekly business column in the Liverpool Daily Post.
The retail menswear business in North Wales that he very rapidly built up from a one-man shop to a million-pound turnover business by the power of press advertising is still thriving and well known.
His amazingly supportive partner is the lovely Barbara, and he has three children of whom he is very proud.
His hobby is solving and compiling cryptic crossword puzzles.