Richard's debut novel is set in the underbelly of immediate post-war Germany and has been hailed by critics as "a real page turner".
About In the Shadow of Hitler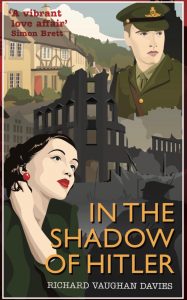 Wounded in the D- Day landings. Adam is now a lawyer working in 1946 in Hamburg, a city 80% destroyed by Allied bombing. He falls in love with the beautiful Rose, an aristocratic German girl struggling to survive in the ruined city by working in a brothel.
Ernst Mann, the elderly doctor who shares Adam's lodgings, is tormented by guilt brought on by his memories of the young Hitler. He also reveals the extraordinary story of Unity Mitford, who was Hitler's lover and may have borne his child.
Adam and Rose share a terrifying experience in the Dead City, the part of Hamburg so devastated by death and destruction that it is still cordoned off.
But even back in his Cotswold village of Chipping-on-the-Fosse many years later, Adam cannot escape from the shadow of Hitler.
Now available in paperback and ebook from Amazon – click here to order your copy
---
What Readers Say
A selection of extracts of readers' reviews on Amazon
"An immensely enjoyable book portraying post-war Germany through the eyes of the hapless British lawyer Adam and his love for the German girl Rose. The flashbacks of his experiences during the war are cleverly interwoven with his current work at the Services Legal Team in Hamburg and that of old Ernst Mann ,an Austrian doctor who had met the young Hitler. No matter who, they are all ' in the shadow of Hitler' and the impact it has on their lives, even at the very end of Adam's life."
"Sex and war is a readable combination which Vaughan Davies handles brilliantly. His empathy with the ruins of post war, destroyed Germany is immaculately researched. He also provides an interesting, imaginative side story on the childhood of Hitler. The main protaganists are well rounded characters. This is a page turner."
"This clever, lively book zips along with characters that are very much of their time(s). I especially enjoyed how the author interweaves time strands from 1944, 1946 and the start of the 20th century. The plotting is excellent and the ending .. well that would be telling. Most enjoyable."
"Enjoyed it immensely. The author's voice is clear and resonant and in command of a difficult subject. The descriptions about sex…and love for Rose are honest and true, and without sentimentality. One rarely gets this in many novels."
"Richard Vaughan Davies has a great talent for getting into the souls of all his characters, male, female, good, bad, old and young, and he writes with an amazing knowledge of his subject. A great read."
"it was an excellent read and one that i really enjoyed. So much so, i re-read this book. It is rare that i will read a book twice, especially within a year! A well written book and one that i would highly recommend."
"I loved this book! I heady romp set in the vividly described ashes of post-war Hamburg. Fascinating story lines interwoven."
"The introduction drew me in immediately. His description of Adam and Rose's romance was deeply affecting and that of the aged Adam in his Cotswold home is empathetic and chilling. I was engrossed throughout."
"I loved this book. It's a very good example of using historical context and events as a framework for a novel."
A Review by Ralph Blumenau, Author & Historian
Ralph Blumenau was born in Cologne in 1923.  He taught history at Malvern College and is a distinguished author and historian. He is a senior Amazon reviewer.
An historical love story by Richard Vaughan Davies, In the Shadow of Hitler embroils readers in a love affair between a young English military  lawyer and a worldly sex worker, as bombed-out Altenburg becomes the background for this most gripping of adventures. Every thread of the narrative, including depictions of a young Hitler, is uncannily accurate. So much so that one top amazon reviewer says:
"The descriptions of the landing on the Normandy beaches in 1940 and of the desolate state in 1946 of a great German city (here called Altenburg, but based on Hamburg) which had been gutted by air-raids are so vivid and gripping that one might imagine that the author is writing about his own experiences."
"A real page-turner, a romance developing between Adam, the naive conscientious British officer and the all-too-knowing Rose, in the immediate aftermath of the second World War. Adam finds himself mixed up in the dangerous underbelly of post-war Germany's starving homeless population struggling to recover, as he works for the British army's mopping-up operations and discovers that peacetime has its own conflicts."
"The descriptions of the landing on the Normandy beaches in 1940 and of the desolate state in 1946 of a great German city (here called Altenburg, but based on Hamburg) which had been gutted by air-raids are so vivid and gripping that one might imagine that the author is writing about his own experiences. There is, for example, an episode during the battle for Caen which had no particular connection with the story, but which is written with a sense of immediacy that seems to stem from a real experience. But the author was born in 1940, so it must all be based on what he has read and on his imagination; and that is very remarkable.
The book is also interesting in the originality of the attitudes of Adam, the central figure and main narrator in the novel. Normally such a description of the horrors on the beaches is associated with the defeat at Dunkirk rather than with the victories on D-Day. Adam is also somewhat unusual in that he has friends among the conquered Germans – the landlady of the house in which he is billeted, and Ernst Mann, an Austrian-born doctor who lives in the attic.
In 1903 Mann had known Hitler when he was a boy of "around fifteen" and had seen him being brutalized by his father. But Mann reproached himself for having kept to himself something he had suspected about young Adolf. I must not divulge what that was – the author has ingeniously adapted for his own purposes a very obscure fact that is known about Hitler's early life. Had Mann spoken out to the authorities about what he suspected, Hitler's career might well have become something totally different. Mann would have a second encounter with Hitler fifteen years later, and again he could have changed the course of history, but didn't.
Adam also befriends the people in a brothel: the Madam tells him at great length of the horror of the firestorms, and moves him to pity. All this while his job is to work as a lawyer in the War Crimes Office, and so he is steeped in the horrors of the concentration camps. He detests his work and is quite nervous about it. He does not at all exude authority when he interviews prisoners. What makes it even worse (we learn half-way through the book) is that his task to DEFEND the prisoners, to give the appearance of impartiality to the proceedings. But he is disgusted when he is told of the policy not to be too hard on high-ups who might be useful to the Allies.
He falls in love with one of the girls in the brothel, Rose, (formerly Rosa von Schirm und Loewen), who has lost all her aristocratic family in the raids; and he wants to rescue her from that life. His relationship with her is an important part of the book. It also is one of the things that imperils his job. So does something much worse: a terrible mistake he makes the course of his work – vividly described (and with – eventually – a melodramatic end), but that is all I can say in order not to give a spoiler."
Ralph Blumenau
How to Order Your Copy